I had Sri Lanka on my travel radar for the past 2 years, and I was more encouraged to do that trip after seeing many of my traveling friends beat me to it! Sri Lanka has recently become "The Asian destination of choice", especially for Saudis... And now I understand why... In 2 weeks in Sri Lanka, I have seen and done more than I have in all my life so far!
Starting my journey from Negombo, down the east coast, south coast, up to the west coast, then center, before making it back to Negombo for departure, I was taken by how distinctive each town I stopped at is, while enjoying breathtaking scenery along the way. The video below recaps the highlights of my journey, which is detailed further below so read on ;)
Negombo
Negombo is a small town, that's 20 minutes from Colombo airport, and is usually a one night stop for travelers who don't want to go on another 2 hours ride to Colombo city. Personally, I chose to stay in Negombo because I'd rather experience the local community outside of *modern* cities... I went to Sri Lanka to escape city life, so I was certainly not going to make that my first stop.
Negombo may not have much to offer, but it makes a good start for a journey into Sri Lanka... It is most known for its beach, Negombo Beach Park, which I wouldn't really recommend as it is not quite clean, and lots of locals swarm around tourists trying to sell some silly things or pretend to be teachers for the deaf-mute to ask for charity money... My French language came in handy here to pretend that I don't speak English in order to avoid them haha
Apart from the beach, you can check out the Dutch canal, which connects to the beautiful Negombo lagoon, the largest lagoon in Sri Lanka. All in all, a tour around Negombo in tuktuk wouldn't take you more than a few hours, photos of which you can see in my Facebook album, so you really wouldn't need to stay more than a day.
Good accommodation in Negombo is not easy to find; hotels by the beach are either below average or overpriced, and at times both! So you might have a better luck staying somewhere that is not directly at the beach, but would be at a walking distance... As for food, I highly recommend Dolce Vita, delicious food with an extensive menu and quite a nice location by the beach!
Galle
Next day of my trip, I made my way to Colombo, which quite resembled any ordinary Lebanese town, and took the train from Colombo Fort Station to Galle, as it is known as one of Sri Lanka's scenic train routes. You can find out the train schedules, according to stations, from Sri Lanka Railways website: http://railway.gov.lk/
The most famous attraction of Galle is the Dutch Fort, where the cutest hostels and hotels are located in the heart of what looks like a typical Dutch/European town. The town is quite serene, scenic and beautiful, and should be on your itinerary when visiting Sri Lanka, to see one of the unusual aspects of the island.
I spent a night and half a day there, where it rained for 5 minutes refreshingly, and then enjoyed just walking around the fort (which is quite close to the station), and once inside the fort, you don't really need any transportation. You can enjoy more photos of Galle in my Facebook album here.
I stayed at the Pedlar's Inn hostel, a very clean and nice place for a reasonable price, so I highly recommend it, but make sure you take the room with the balcony, as the other one would have no privacy. For food, we had a lovely dinner at The Indian Hut, good halal food for good value.
Mirissa
After spending a night in Galle, I took my first bus ride to Mirissa, a town in the south known for its beautiful beach and whale watching cruises, but unfortunately, it wasn't the season. Still, enjoying the ambiance and beach scene was a pleasure on its own, and was good enough for my one night stay over. The town is close to Weligama, which is being developed to be an urban tourist destination, and my first stop was to see the sunset on Weligama bay from top of mountain resort.
I spent the next morning strolling by the beach, which is by far the most beautiful among the Sri Lankan beaches I visited. It is not as big as the rest of them, but it is much cleaner, and less crowded, with a number of fresh sea food restaurants right in the sand, playing Reggae music... I was surprised with how Sri Lankan beach boys resembled Jamaicans! To see the Jamaican looking beach boys, and more of Mirissa beach, check out my Facebook album here.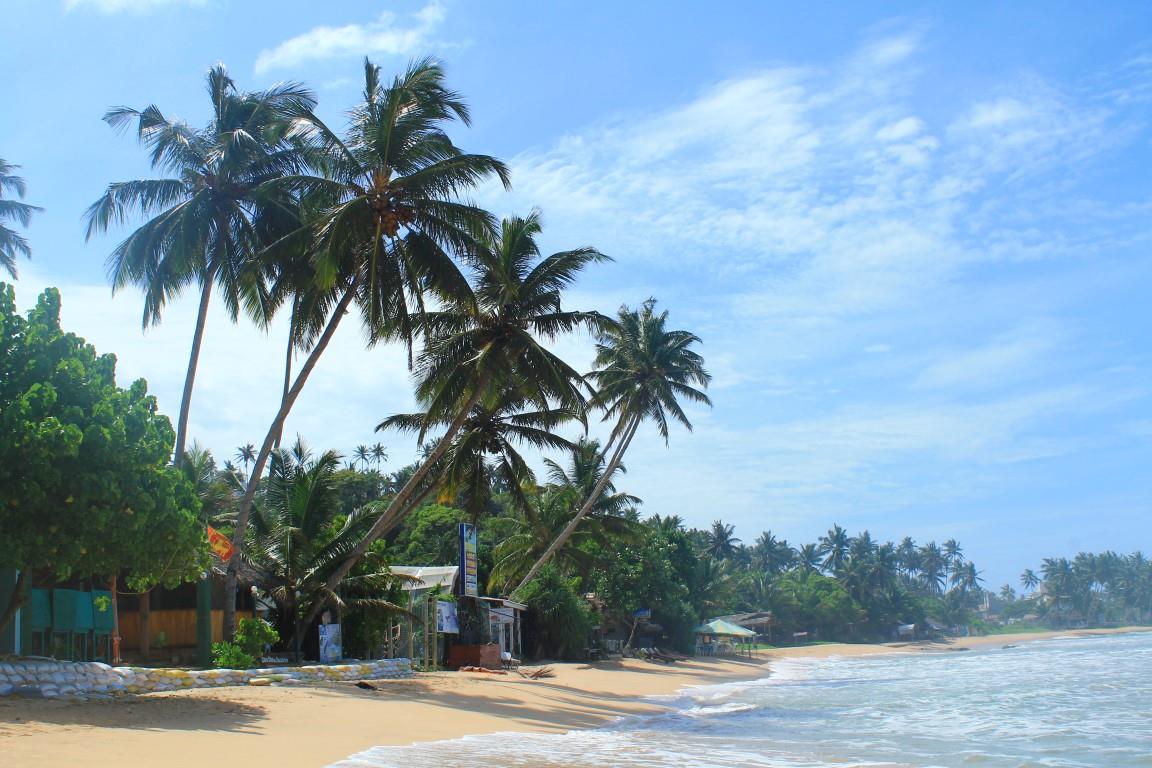 There are a number of popular beach resorts on the beach, depending on your budget, but I stayed at a hotel that's a 5 minutes walk from the beach, with an affordable rate (and a good breakfast! First time I tried the Sri Lankan pancakes with coconut cream!), called Banana Garden, which is family owned, and managed by an adorable guy called Jihane... I couldn't really believe he was Sri Lankan because of how cute he is haha
For food, you MUST stop by Dimali Inn, a restaurant that looks more like a house driveway where you would not consider to be a restaurant, but you'd be surprised by how awesome the food is! It is run by a woman chef, with barely a menu, but you can trust she'd make you the best food you'd have in Sri Lanka.
On the 4th day, I made my way to Kataragame, a long 3 hours tuktuk ride, where I went on Yala National Park wild safari... Which you'll know more about in my next post! So comment, like, share, subscribe and even stalk me :P whatever you need to do, you do not want to miss the rest of my Sri Lankan adventures: Part II and Part III.